Last Updated on February 19, 2023
Tired of clunky, uncomfortable work boots that hold you back on the job? Look no further! We've searched high and low to bring you the crème de la crème of slip-on work boots. These sleek, stylish, and super sturdy boots will elevate your workwear game, providing all-day comfort and top-notch protection. Say goodbye to sore feet and hello to increased productivity with our top picks for the best slip-on work boots. Whether you're a construction pro, warehouse wizard, or simply in need of an upgrade, don't miss out on this opportunity to level up your footwear game. Start reading now and find your perfect pair today!
Top Picks of Laceless Work Boots
Unleash Your Inner Workhorse: Discover the Ultimate Slip-On Work Boots of 2023!
The importance of slip on work boots can be understood by the fact that they protect you from potential hazards, dirt, wet situations, and exhaustion when you're standing on hard floors for a long time. These laceless work boots can be easily worn and worn off without bending over and doing laces. They are super comfortable, durable & maximizes your work productivity.
1. Wolverine I-90 Slip On Romeo Work Boots
Key Features
Product specifications
Comfort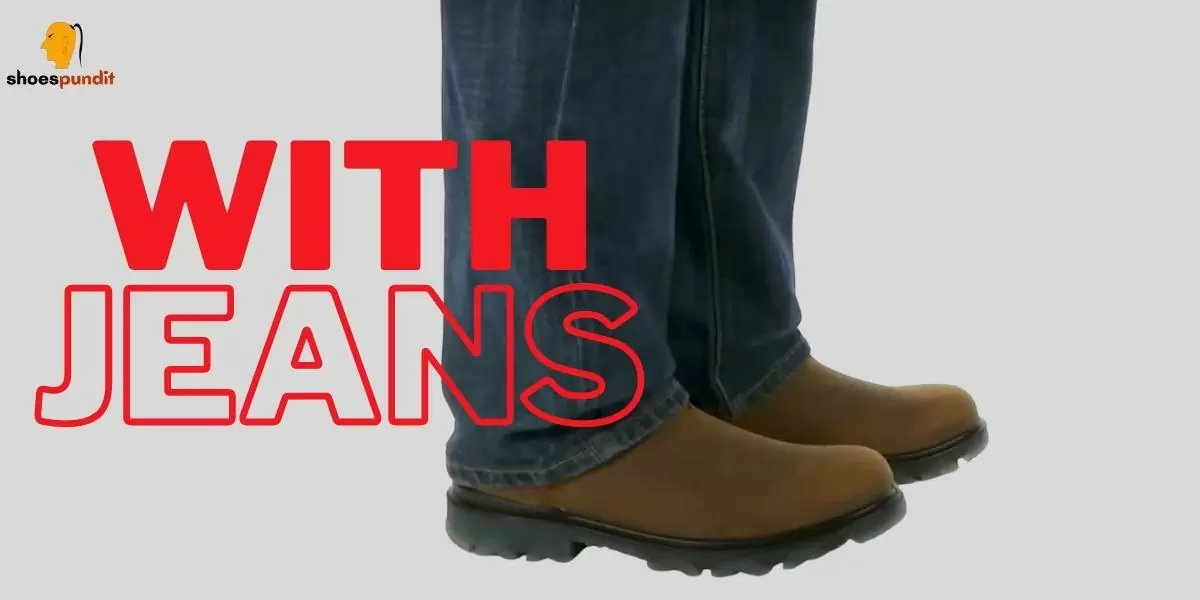 The Wolverine Men's I-90 has a classic look. It is exquisite and wearable with great versatility. We were overwhelmed to know that it comes with EPX technology for efficiency & comfort.
In addition to this, it takes the energy potential to the extreme, delivering comfort closer to the foot to render energy and fight fatigue all day long.
Wolverine I-90 are comfortable slip on's that are durable and can be worn in multiple work environments. Either you are visiting an office setup, going out fishing, or planning camping for the upcoming holidays, these slip resistance boots will be most beneficial.
Wearing Ease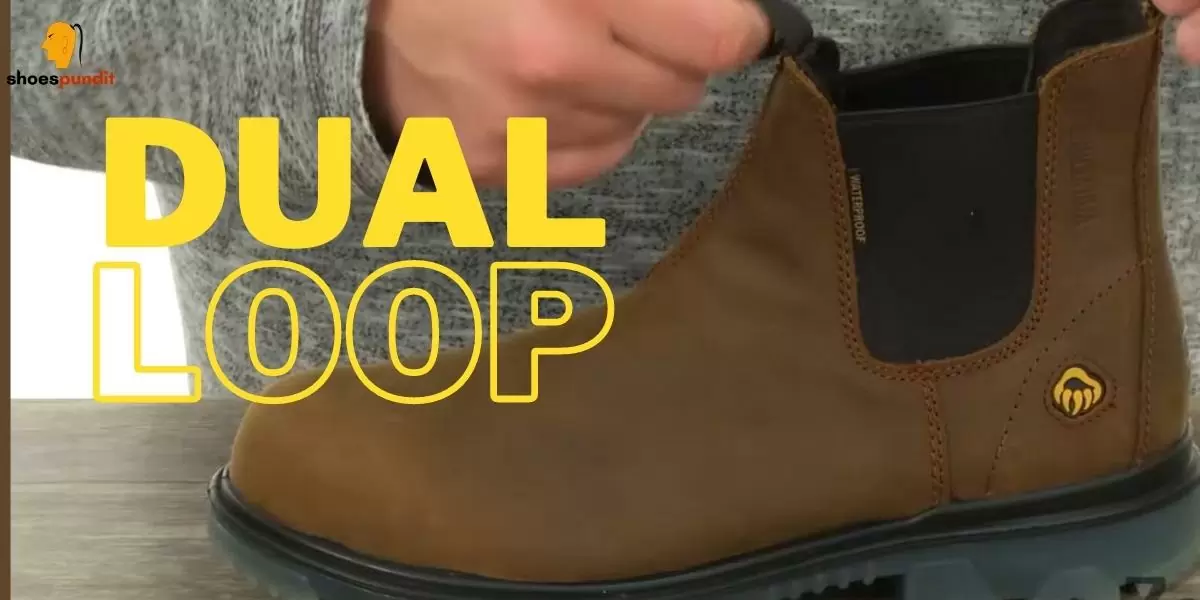 One of the attractive features is the double loop (Nylon Shank) for pulling them on. If you have ever tried other slip-on's having a rare single loop you can imagine the convenience of having double loops both in front and back. As a result of this feature, they are our preferred slip-on work shoes. Lacing up is a lot quicker this way. The 5.5-inch shaft and synthetic sole make them suitable for all weather conditions.
Innovation
A detachable anti-fatigue footbed is also included. It can be easily removed, washed, and reinserted. It was effortless for me to wash it, though. Your feet will stay dry thanks to the moisture-wicking mesh lining.
During hot weather, we found this to be more comfortable. Because of these moisture-wicking linings, the body could adjust its temperature, resulting in a dry, non-viscous feeling.
Thus, you can work uninterruptedly and efficiently without distractions. You won't get wet feet. Also, if a metal detector scan is required to enter a building, you will not need to put it off. They do not have any metal in them.
Durability
Durability is one of the factors which I certainly don't neglect while selecting slip on work boots. Use them in snow, mud, roofs, warehouse, installation sites, or any work condition; they would surely last three times longer than other work boots.
The TPU (thermoplastic polyurethane) outsole is lightweight, slip-resistant, and abrasion-resistant. If you are working in a place where the chemical or oil split is a usual thing, you don't need to worry.
Maintenance
The deep tread makes them easy to get dirty. You can, however, wash them by hand. If you want these best-rated slip-on work boots to last a long time, we recommend hand washing them. It is a bit narrow at the top of the shoe for people with wide feet. You should choose the X-Wide size.
Overall, I found the WOLVERINE I-90 stylish, safe, comfortable, and durable. Wear them after a hectic day at the workplace or anywhere casual. Moreover, they are reliable and are the most appropriate choice for challenging jobs.
You can wear them with everything, including chinos. Considering the price, these are an excellent choice due to their high quality. You will certainly be delighted with the quality of these boots. My feet stay dry in wet environments because of their durability and dependable construction.
Reviews & Ratings
2. Caterpillar Men's Revolver Pull On Steel Toe Work Boots
Key Features
Product specifications
Comfort
Caterpillar is known for its quality around the world. There is no doubt that their build is durable and looks good. Their design makes them convenient to wear. This shoe has a full-grain leather upper with a lugged T3 rubber outsole that protects you from slippery surfaces. Additionally, steel toes protect you from potential hazards.
Durability
These pull on work boots are EH resistant up to 14000 volts in dry conditions. It is very important for people who work in heavy industries, or in challenging conditions, and they are also ideal for daily use.
Wearing Ease
The double pull loops provide convenience to wear them on and off. There is no gore paneling, so you will have to use these double pull handles. The steel toe is extensive and protects you against all potential impacts and compressions.
In addition to this the rubber soles are enduring, providing you an exceptional grip. If you are using it for the first time, you will need some time for the break-in period. We found that the break-in period will not be very long.
Innovation
The PVC midsoles are shock absorbent, making them more stable and comfortable work boots. As we all know walking and standing for long hours could lead to injuries. However, the midsoles of these work boots can absorb the shock and save you from pain.
Furthermore, the rubber outsole of these pull on work boots with a dynamic pattern improves traction and keeps you stable on various kinds of surfaces. Lastly, the outsole is slip and oil-resistant.
Maintenance
These steel toe work boots are easy to clean. Take a wet cloth and gently apply. Due to the outsole design for better grip, mud can stick around the heel, which can cause a slight inconvenience for the user.
When it comes to work boots, you have to choose between comfort and safety. You can enjoy both with these steel toe work boots. They are comfortable and offer great protection. They have slip-resistant soles and rubber traction pads that will keep you safe.
These work boots offer ankle support that will keep you stable if you are working on a ladder or walking down the street. They are ideal for jobs where you will be using them for a long period of time.
Reviews & Ratings
There are more than 2290 reviews in Amazon.com about these work boots at the time of writing and they have given them a 4.5 out of 5 rating on average. These boots are very popular.
3. Ariat Mens Workhog H2O Slip On Work Boots
Key Features
Are you looking for a shoes that can be worn as casual as well as for your work? ARIAT Pull Hog H20 composite toe work boots feature a composite safety toe that meets ATSM safety standards for superior support.
Comfort
This particular model, Workhog H2O Boots, is waterproof with a full-grain leather upper. There's elegant stitch detailing at the top, making it more attractive. In addition to this, the rugged protection & excellent comfort of these work boots will maximize your productivity every day.
Innovation
The composite toe style makes them much lighter than the steel-toe boots and safe These leather slip-on work boots use Good year Welt construction which ensures their durability, stability, water resistance, and endurance.
Equipped with the removable gel-cushioned footbed with ATS Max technology, these most comfortable slip on work boot offers excellent moisture-wicking designs, keeping your foot dry, relaxed, and fresh. In addition to this, across the middle, you will find a supportive EVA midsole. It improves shock absorption and avoids injuries.
Durability
Ariat H20 have a soft toe with a dura tread outsole on the very bottom, making them a suitable choice for heavy-duty work and demanding working conditions. The dura tread outsole is oil and slip-resistant with an efficient self-cleaning tread design that provides wear and abrasion protection.
Wearing Ease
In contrast, the Dual pull handles make it very convenient to pull them on and off. These boots have been designed for maximum torsional stability to reduce foot fatigue and ensure precise body alignment in the most arduous work conditions.
These lightweight pull on work boots have U-turn entry system with a flexible panel that allows easy entry and exit for all foot shapes. This feature surely makes them one of the best pull on work boots out there available.
Maintenance
Maintaining these work boots is simple. All you need is to get a wet cloth and wipe off the mud from the shoes after work. Furthermore, I recommend using mink oil or leather conditioner on the boots a couple of times. It will help the shoe to maintain its appearance and flexibility. Wear them for short periods to break them in.
Conclusion
They are comfortable, sturdy and affordable. We know people who use them for work and they're comfortable and tough enough.
Reviews & Ratings
Amazon.com has 93 reviews of customers for this boot. Most customers like it, and the overall rating is pretty good. It is 4.3/5 at the time of writing.
4. Skechers On-The-Go Joy Harvest – Low Cut Slip On Work Shoes
Key Features
Comfort
Forget your old boring work boots. These low cut slip-on boots are perfect for working. Our primary concern for testing out these slip on black work boot was comfort. Incredibly lightweight, but firm weighing only 0.48 pounds with remarkably comfortable cushioning, it will make you feel like walking in the clouds. You can walk all day, and your feet will never get tired.
Innovation
Firstly, I was impressed by their outer look. On the upper, you will notice smooth performance text microfiber. The finish is leather textured. Its also treated with a 3m Scotchguard so that its water and stain repellent. Secondly, on the top is a tiny opening here at the side.
The space on the top is 3 inches wide with a 9-inch top circumference. The pull on construction with split shaft design makes it a practical choice for lightweight slip-on work boots. For supreme cushioning, flexibility, and support its equipped with an Air-cooled Cooled Goga Mat insole. It proved to be very supportive when my foot flattened down the edges. I had the feeling of comfort and support due to this cooling mat.
Durability
The insole has a high rebound for better shock-absorbent, making it a perfect choice for all-day use. Moreover, you will find them more resilient, springy, and durable than the typical memory foams insoles.
Skechers Performance On-The-Go Joy Harvest Are equipped with highly active 5GEN midsole cushioning. Last not the least, you get improved arch support thanks to the pyramidal midfoot design. One can experience a stable walking experience due to the modified sole design.
Maintenance
If you are using these perfect cold-weather work boots for long hours you might have to consider the maintenance factor as well. Its better to use mild warm water with a soap for cleaning them. You can then air dry them as its the most suitable way for a long life and protection.
You can also use various sprays available to eradicate the smell inside of these comfiest work boots. Better to do once in a week.
And you know what? When you wear these boots, you'll feel happy and confident because you'll have great style. You'll be the one everyone envies when you step out of work wearing them.
Reviews & Ratings
There are currently more than 1171 reviews in Amazon.com about these work boots. With a 4.2/5 average rating, these boots are well regarded by other buyers.
5. Redback Easy Escape – Black Work Boots With Soft Toe Slip On Style
Key Features
Product Specification
Comfort
These marvelous slip on leather work shoes from Redback are an excellent choice if you work in a wet environment, concrete floors or the automobile industry. They are furnished with some most advanced technologies and innovations which make them a good pair of 6" work boots. We focused on comfort and safety while testing these slip on work boots. They turned out to be adaptable, convenient, and lightweight.
Innovation
We all workers who spend a significant chunk of our lives on work fields are always attracted to something which caters to our tiredness. This fatigue not only slows down the pace but also becomes a hurdle in improving productivity.
For managing this, the midsole of these work boots is equipped with Anatomic support system that prevents arch sagging and foot tension, fatigue, and muscular pains like knee pain & back pain.
Wearing Ease
Dual tabs on the top make it easy to pull on and off. This lightweight shoe midsole contains numerous tiny air bubbles for shock absorption and returns energy making it easier to work all day long. Wet environments are always dangerous.
It was common for your heels to crack, or you would have the sole come off sooner than expected. You no longer have to worry about these boots because they are slip-resistant to water, oil, and acid. The shoes cannot be damaged by corrosive chemicals, acids, or liquids. Your traction on any terrain is enhanced by the TPU outsoles, which pass the OSHA requirements for oil and slip resistance.
Durability
They have non-steel toes that keep them lightweight. The elastic gore panels are stretchable so people with wide feet can instantly wear them on, holding the feet sweat-free. In contrast, the bottom is durable with a super soft sole.
The big toe box doesn't knock your toe with the boot surfaces as it is pretty spacious. Not only do they look good, but they are durable as well. Thanks to the direct-attached construction.
Ample space for custom inserts makes them a good choice of slip on work boots for plantar fasciitis.
Maintenance
Maintenance is required if you want them last long and look good. You may notice the leather fading or a lugged look in leather boots. The leather starts drying out .Wipe down the boot with a damp rag. Make sure to apply the process specifically on creases as the dust inside them erodes leather.
If you want to use them in snow and clean them, you can add few drops of vinegar and water for the process. Once the boot has been wiped down, let it dry at room temperature. Avoid exposing them to a wood stove or furnace.
With these boots, you won't have to worry about anything getting into your socks. No matter what the weather, they'll keep your feet dry and warm all day long.
Reviews & Ratings
There are over 84 reviews on Amazon.com regarding this particular pair of boots. They average 4.5/5, with the majority of them being 4/5 stars. They're good, with few problems or complaints about them.
6. Ariats Square Toe Slip On Men's Western Work Boots
Key Features
So if you are looking for something innovative, high quality with a Western and English essence that is compatible with your work and hobbies like riding, you are at the right place. Ariat Heritage Western pull on work Boots are the best pick in this concern.
Comfort
Firstly, these western boots' classical leather lining with a wide calf provides an elegant look and makes it easier to wear them on and off. Full-grain leather enhances the outer look making it a suitable choice to wear for your daily errands.
Secondly, they can be assured fit for all-day wearability. I surely couldn't neglect the beautiful stitch pattern and the superb hand finish. The boot's shaft measures approximately 10″ above the arch, which is enough for quick-wear simultaneously providing support.
Innovation
Unlike waterproof work boots that make your feet sweaty, they have breathable synthetic fabric with an open weave that keeps your feet dry. These work boots' dura tread rubber outsole is acid and slip-resistant, providing the wearer ease and endurance.
Sole of these work boots improves comfort and traction. Furthermore, you will easily survive the situations of working on slippery or wet surfaces without jeopardizing your performance—the incredible design of the heel at an angle of 90 degrees renders extra support.
Durability
One can feel the comfort and excellent stability due to the ATS technology midsole of these cowboy work boots. This midsole shields you and supports the movement. Furthermore, it will help you revamp your posture and restores energy for maximum output.
Maintenance
The tread on the shoes is not deep, which protects them from accumulating mud. Similarly, the heel has a deeper groove that will not let stick mud which often creates discomfort. Like maintaining your other leather shoes, you can use leather polish or cream for conditioning and cleaning. Make sure to wipe off any dust or dirt with a soft piece of cloth before cleaning.
Whether you're a cowboy or a rancher, you'll appreciate the rugged design and comfort of these Ariats Square Toe Western Work Boots. With these boots, you won't need to worry about your feet or your comfort. Instead, you can get on with the business of living life to the fullest. So go ahead. Get the boots you love, in the style you like and for the price you want.
Reviews & Ratings
There are more than two thousand reviews about these work boots on Amazon.com, and they have given them a 4.5 out of 5 rating. People like these work boots.
7. ARIAT Round Toe Pull On Work Boots
Key Features
I tried these slip on work boots because of their popularity. Suppose you are looking for boots that can assist multi-surface traction and survive various situations like slippery surfaces, climbing, working in a ranch, factory, or construction area, and are lightweight. In that case, these Ariat Groundbreakers are an excellent choice.
Comfort
As we workers have to face various challenging conditions at work, the most critical factor for me is the comfort level of boots. The good thing is that these pull on work boots for wide feet are super comfortable. The dual pull tabs on the top and long shaft make it very easy to wear them on and wear off. Unlike other work boots, they have a wide opening which is a plus for people, primarily with wide feet.
Innovation
The upper of these non steel toe slip on work boots is sturdy and has a full-grain leather foot with a suede upper. It has breathable mesh linings, which help your foot breathe and keep them dry. In addition to this, the attractive design pattern on the shaft and the front of the boot are majestic, and the build quality feels phenomenal.
You can wear these for your daily errands to protect your feet and keep yourself energized. Moreover, they have enough cushioning with the heel bed and arch support which protects feet from sliding back and forth. Last not the least, Ariat has equipped them with the 4LR Technology for maximum support and durability to withstand harsh work environments.
The toe box has ample space. They are not steel toe which keeps them light weight. The soft toe is EH-rated to protect against a variety of workplace hazards that can result in injury. Moreover, one can feel the additional support due to the 90-degree heel, which ensures extra assistance.
Durability
The insoles are also comfortable and provide shock absorption. The midsole blend here with the outsole helps keep the weight down. The outsole is pretty flexible, extending the comfort level.
If I talk about traction, then I tried them on various surfaces, starting from the older asphalt to the newer tarmac to sand, rocky road, marbles, and tiles.
It is slip and oil resistant on regular asphalt and tarmac, performs well on the sand, but it got a little slippery when tried on the wet sand. So they are not suitable for snow and extremely muddy surfaces.
Maintenance
Use mink oil or leather polish to clean them. Don't forget to wipe mud or dirt from the shoes before applying the oil.
Conclusion
With this work boot, you can wear a pair of boots with wider heels and still get comfortable. The round toe provides extra support and comfort for wide feet.
Reviews & Ratings
Amazon has more than 2000 reviews for these work boots, and they have been given a 4.5 out of 5 average rating overall. Most people love these boots, but some people don't like them.
8. Georgia Giant – Low Cut Slip On Best Romeo Boots
Key Features
Design & Comfort
Guys, during the testing of leather slip on work boots, I planned to try something which proves to be an indispensable pair perfect for work, play, the office, or the field. During testing them, I considered some standards like height, weight, endurance, and ease of wearing them.
Therefore, if your work involves you visiting clients' premises for work like Furnishing, MSC's, Interior decorations, and construction sites where you have to wear off your shoes often, this pair of Georgia Romeo work boots is a good pick. These low-cut slip on work boots are a good option for people who prefer ankle height low top work boots and not a high boot shaft.
Wearing Ease
It was a bit difficult for me to get my feet into these best inexpensive slip-on work boots for the first time. It felt like the boots were a bit tight on my feet. As a result, I was extra cautious while trying them; credit is due to the last pair I tried, which had rough leather and I will not recommend.
However, the dual handles on the top and the stretchable twin gore opening made the process easy. You can quickly get your fingers in for stretching the panel.
Particularly, these boots are pre-stretched with high-quality, sturdy leather. They become flexible with time as the elasticity loosens up, which I noticed after a week of trying these best Romeo slip on work boots.
Innovation
A soft full-grain leather exterior gives it a classic look, while a comfortable interior combats harsh working conditions. It is always the construction technique that I look for when choosing a pair of slip-on work boots.

With Goodyear welt construction, these boots provide support and durability. The inner part has a breathable lining to keep your feet dry. The linings will keep the interior dry when you wear them in a sweaty environment.

It is one of the key advantages of these slip on work boots that they conform to the natural arch of your foot, unlike other boots that may cause discomfort as you force your foot to conform.
This slip on work boot has a lightweight, resilient EVA midsole that makes every step convenient. Steel shanks inside provide additional arch support.

These slip-on work boots have the appropriate insole, neither too soft nor too hard, which can cause discomfort. As these boots have a steel toe, they are safe to wear as they can protect you from immense force and electrical hazards only if they are dry.
If your work involves working with high voltage, you should avoid them.
There is a noticeable tread on the rubber outsole. Unlike loafers, it has a specialized design pattern that keeps these work boots oil- and slip-resistant. Moreover, the 4″ shaft and unique construction of the shoes did not add to their weight, which I had not anticipated.
Durability
The outsoles are replaceable, making them a good budget work boot. I also tried them in moist conditions while watering my plants, and I found they are water-resistant. The outsoles spent pretty much time on the lawn and did not allow the water to enter inside. Besides, the steel shank will accommodate arch support.
Maintenance
Cleaning these shoes is effortless. Mink oil in this regard will be helpful for your maintenance. Moreover, I noticed that high-top boots with deep treads spread the mud or dirt all over the place you walk in with these boots will not be the case. You can easily clean off the dirt and apply conditioner to increase the life of these most comfortable slip on work boots.
Conclusion, Reviews & Ratings
Amazon has more than 841 reviews for these romeo slip on work boots, and they have been given a 4.5 out of 5 average rating overall.
9. Carhartt Best Wellington Pull On Work Boots
Key Features:
Design & Comfort
If you are looking for pull on work boots that you can wear in all kinds of weather, these are for you. I was impressed at first glance as they have enough openings on the top. A good-looking slip on steel toe work boots that can protect you from anything that nature throws at you. The non-slip 11" waterproof Carhartt exceeded the qualifications when it came to rugged workwear.
Wearing Ease
These comfortable wellington work boots have an extremely tough coated oil-tanned leather for harsh environments with durable, firm fabric for durability.
The insulation is superb; even in the car wash, my feet felt warm and dry. This happens due to sweat-wicking linings that work with a breathable waterproof membrane by promoting airflow and circulation. Therefore you can consider them the perfect choice for best slip on work boots in Canada.
The ridgecut pull on work boots is insulated with 400 Litefire technology. The black coating gives the boot extra protection from water which is a huge plus compared to standard leather boots.
Durability
These boots are durable due to their high-quality material. In addition to wearing them to work, you can wear them casually as well. It would be a long-term investment.
Innovation
Walking on mud, slush, ice, oil, rain, and hot asphalt has been a breeze with the non-slip soles. With welt construction, the outsole is very grippy, providing sure footing. The thick PU outsoles are also chemical and slip-resistant.
As it has a steel toe, it protects you from potential injuries or incidents. The shock-absorbing cushion insole provides comfort and support while reducing foot fatigue. In addition to providing stability and impact protection, the 1.5″ heel guard helps maintain grip.
Moreover, in dry conditions, these work boots can give you secondary protection against electrical hazards up to 18000 volts, which is impressive.
Maintenance
For maintenance, keep your conditioner ready. Repeat the process of removing the dust first and then using the conditioner. Always use waterproofing wax for durability.
Conclusion, Reviews & Ratings
Amazon has more than 2762 reviews for these work boots. They've received a 4.4 out of 5 average rating, which means they have been liked by most customers.
10. Thorogood American Heritage Wellington Pull on Work Boots
Key Features
Design & Comfort
If you consider a work boot that is not a western-style but a classic work wellington style boot, Thorogood American Heritage is there for you. A super comfortable product with a high-quality material made in the USA. These American-made pull-on work boots have a superb build with beautiful stitching.
The soft full-grain leather tail crazy horse adds to the outer look of these pull-on work boots while keeping your foot at a pleasant, comfortable temperature. The triple stitch pattern on the upper makes it more eye-catching and sturdy.
Wearing Ease
Equipped with dual pull handles on the top, these boots are easy to wear on and off.
Innovation
This shoe has an excellent shock-absorbing insole that allows uninterrupted work in challenging conditions. As a result, this insole enhances your productivity. Moreover, the 90-degree heel has a fibreglass shank running from the middle to the heel.

They are a viable option for various tasks where we use the heel as a tool. You can climb, kick shovels, etc. A tight heel cup also maximizes shock absorption on hard surfaces and secures the heels.
I always advocate "Safety First" and have also been preaching this to my colleagues. These pull-on boots have a steel safety toe, which protects you from heavy objects that could fall and cause injuries. If you are looking for leather boots with these outstanding features, then you will be happy with the choice you make
Durability
One another feature in these boots I liked is the outsole of these boots. It has a specific sole pattern that enhances traction and provides you safety, and keeps out foreign materials like mud and dirt. The shape is designed not to let such particles stick, and you can freely move in any work condition.
Furthermore, the outsole is 90 degrees and prevents you from slipping. I felt the sticky feeling in the outsole when I tried them in the water. They are re-soleable and durable due to the construction style that is Good year welt, so it is an economical approach.
Maintenance
As the footbed is removable, you can take it out at night and wash it if you want. If you remove it overnight, you will find it completely dried the following day. Like other leather boots, you will need a leather conditioner to make them last longer and give a fresh look. Ensure to wipe off the mud with a wet cloth before applying the conditioner.
Conclusion, Reviews & Ratings
Amazon has more than 331 reviews for these work boots, and they have been given an average rating of 4.2 out of 5 overall.
11. Dr. Martens Safety Toe Chelsea Leather Work Boots
Key Features
Comfort
Slip your feet into the Dr. Martens Men's Fusion Safety-Toe Chelsea Boot if you want durable and comfortable slip-on work boots. With jeans or chinos, this classic boot looks great, but it's much more than an everyday slip-on.
Innovation
This Chelsea work boot features full grain leather uppers and a padded collar for a comfortable, secure fit. Featuring a GORE-TEX lining, these leather slip-on work boots keep your feet warm, dry, and comfortable while also providing extra comfort against sweat and moisture.

The slip-resistant rubber outsole of these slip-on work boots provides excellent slip resistance, and the antibacterial lining keeps your feet cool and dry no matter where the work takes you. They are made to withstand any storm with triple stitching, a safety toe, and Goodyear welt construction.
Durability
With a slip-resistant rubber outsole and a steel shank and Goodyear welt construction, these shoes are tough enough to weather any storm. Triple stitching gives me an extra secure hold.
Wearing Ease
Dual pull tabs makes them very easy to wear.
Maintenance
These leather work boots are easy to clean. You need a leather conditioner to clean them.
Conclusion, Reviews & Ratings
Amazon has a whopping 519 customer reviews for these work boots, and the average rating is 4.4 out of five stars. However, while most people love these boots, others didn't.
Buying Guide
Let me help you out with some imperative attributes you should contemplate before finalizing a pair of boot. I am compiling them with my years of experience in the industry to help you pick the best pair for your daily errands.
Fitting
When choosing slip on work boots, most people have issues with sizing. Make sure you measure your foot size accurately to get the perfect fit. There are options for both wide and narrow feet. Consider your options carefully.

Moreover, if you prefer pull-on work boots with shafts, ensure the top opening is sufficient for easy entry. Slip-on work boots with a low cut are a reliable alternative if you don't need a shaft. No matter what, you must choose your boots carefully based on their size.
Material Used
The material of the slip on work boots will circumscribe the life and comfort of the boot. Pull On work boots come in leather & rubber. Depending on your work type, choose the one that suits you best. If your work involves exceptionally harsh conditions and extended work hours, then go for leather.
It will enhance the comfort level and shield you as leather boots mostly have a higher shaft than the regular ones. Rubber boots will be more supportive if your workplace includes slippery surfaces.
Safety
Safety Toe plays an essential role in protection. Do consider the type of toe that is used in the boot. If there is a risk of falling heavy objects at your workplace, you will need steel toe work boots. The steel toe should meet ASTM standards for protective toe and electrical hazards. The pull-on steel-toed work will guard your toes and minimize the risk of injury in case of a mishap.
Comfort
Comfort is an aspect of slip on work boots one can never underestimate. We have to wear them for extended hours, and in an uncomfortable situation, it creates havoc. Neither one can concentrate nor can give up. Even if we have to pay a little more, I will suggest that you go for comfort. This will be a safe investment. You will feel relaxed, focused and stress-free.
Durability
Our workplaces are not often cemented, firm or have decent flooring. They might be warehouses, farms, construction sites or chemical factories. For this, the slip on work boots must be durable and abrasion and water resistance which can last longer. It will also be a reasonable approach as it will save you a couple of bucks and time; you will not be facing the nuisance of finding alternatives.
Traction
Traction is essential for your safety and productivity. Additionally, excellent traction provides maximum contact and friction, preventing hazards and providing stability. This is where the tread pattern of the outsole plays an important role. Slip-on work boots should not overlook this factor.
Weight
Boots that are too heavy will exhaust you throughout the day. Your walk will be improper, which can cause back and muscle pain. Choose comfortable work boots to avoid this. The majority of slip-on work boots are not lightweight. For this reason, choose slip-on work boots that are lightweight and comfortable to wear all day.
Why I Prefer Lace less Work Boots ?
Ease of Wearing
The lace-less work boots are easy to wear on and off. The dual tabs on the top of the shaft of slip on work boots allow a speedy entry. Not only this saves time, but it also keeps you focused. In addition, you always know there are no laces down there which can get untied.
Maintenance
Most of the Slip On boots are constructed in a way without eyelets or materials that can absorb liquids like chemicals, water, dirt or dust. Cleaning them is super easy. This will save your time which you can utilize on other tasks. This feature is very useful for those hard workers who barely get time for anything else.
Waterproof
The material for the Slip-On work boots is designed to protect you and provide maximum breathability. Moreover, it keeps the foot dry and comfortable. Most of the work boots are water proof. Do read the product manual before selecting a pair. The material of work boots should be waterproof . Not only will it protect your feet from getting wet, but also keep your feet healthy.
Frequently Asked Questions
We hope this list of the best slip on work boots will help you find a pair that best suits your needs. If you have any questions, comments or suggestions for other slip on work boots we should test out, let us know below! Commenting is the easiest way to contact us and get in touch with our team.