Last Updated on August 9, 2023
Have you always been wondering how to lace work boots in the perfect way? The proper tying or lacing of work boots is crucial to an individual's comfort and safety. There are various methods of lacing work boots.
Whether the shoes are old or new, various methods of tying them change the style and comfort level; besides, it gives your personality a unique and different look. You should try to tie your work boots easily and quickly for maximum comfort and safety.
There are some old traditional and standard methods of tying the work boots. But here, we will discuss some unconventional and trending new ways and their advantages and disadvantages in detail.
How to Tie work Boots – Most Popular & Effective Ways in 2023
The Boot Lacing Methods – Old & traditional method
Some of the most commonly used and best practical methods of tying work boots are not only faster but also safe to use. These ways will save time and protect you from any hazards or accidents. Few methods may appear to be time-consuming and challenging; however, you should choose the one that suits you most in comfort and time.
Some practical tips and methods for tying your shoes will help you avoid safety hazards if you follow them correctly. Few of the techniques are tricky and time-consuming, but once practiced regularly can be done quickly later. But the focus should be on how to feel most comfortable with each unique technique meant for you.
1. Criss-cross Standard – Most Common Technique
This method is most commonly used all over the world. The shoe manufacturers use this method to ship their products.
You will most likely find the shoe and some pull on work boots laced in the criss-cross method whenever you visit any shoe store. Although it seems straightforward, you can't take it for granted.
The lacing should be neat and clean. If the laces are not tied properly, it gets ruined at the edges of every cross. The twists will ruin the uniformity if you do not straighten the laces frequently. You can use a small amount of lace with this method.
We will follow the following three steps to see how this method works:
Step 1
Always start from the bottom eyelets. Go from the outside towards the inside, then pull up the laces, so both sides have the same length.
Step 2
You must bring the lace diagonally over the tongue until you reach the top. The lace should be stringed into the next eyelet.
The exact process is repeated for the other opposite side.
If you string the same side first, from right to left, stay with this pattern throughout the whole boot. If not, the pattern might mix up incorrectly.
Step 3
This step is the last. Lace your boot till the ankle. Since this method uses little lace, you can use the excess lace to wrap around your ankle before tying it.
2. The Heel-Lock Lacing Method for Logger Boots – a sound Methodology
This technique is used by people who live in rocky places, specifically logger boots users. The loggers could be eyelets or hooks. It keeps the heels tighter for extra support. That is why it's called the heel lock lacing technique.
It's the best shoe lacing method to prevent toe injury and heel blisters. It's an ideal shoe-tying method for running and hiking activities.
This method is used by those whose heels get hurt while wearing work boots. When you work outside in fields or rocky areas, lots of walking and movement are required to carry out that job.
Each step you take will make the heels rub against the inner of your boots, consequently resulting in the painful blisters of your feet, especially the backside. Experts have devised this heel lock tying method to avoid this painful process.
This method involves tying laces so that heels get locked in their place, and toes don't move to get hurt. You can also use this method for soft toe work boots.
Start with the criss-cross lacing method from bottom to top
Now take the left lace and lace through the top left eyelet or hook that should form a loop at the top of the shoe
Repeat with the right shoelace
Criss-cross the lace and thread through the loops
Pull tight to create the lace lock
Tie a balanced knot to keep the heel lock in place
The reason why we should use The Heel Lock Lacing Technique
This will keep the heels locked in place and avoid slippage
The knot creates a tightly fitted space
Keeps the feet stable and comfortable.
This method is applied to work boots only and can be used for running, delivery jobs, sports, and hiking shoes. You can lace these shoes in the same way as using the last two eyelets because sometimes it's hard to find them in a sports shoe.
3. Lacing Work Boots Using The Spider web lace tying method – A sneak peek
This method is used on military boots and looks great on long boots. It's like the angled version of ladder lacing. It is a more challenging method of lacing.
4. Lace Work Boots with 2-1-3 A Super Easy Method
If your ankles get hurt with tight laces, then this method will work for you. This method works on any boots. Besides, it's an easy way of tying work boots. Let's see how this method works,
How to Lace Your Work Boots Using this Technique for optimum benefits
So this method is followed by figuring out the three eyelets around the boot ankle. You tie this by tying the lace until you reach the ankle.
Here, you have to skip the first hook, go onto the second hook or eyelet, come back to the first eyelet, and lastly, go onto the third eyelet. That's all you have to do. The rest of the lace is typically tied or around the ankle.
The boots from inside would be more comfortable along with proper safety.
You can use it to wrap around your ankle before tying it.
Advantages of 2-1-3 Lacing
Recommended for long hours of work
Ensures security, comfort, and high performance.
This method avoids lace bites
Even with tight laces, the feet won't get uncomfortable
Recommended for work boots because of its straightforward methodology
Disadvantages of 2-1-3 Lacing
You might feel this tying of laces is a bit complicated to follow
Your heels will not feel protected
Initially, it may not seem like an easy method, but after a few practices, you will get the hang of it.
5. Army Lacing Technique- Military Boot Lacing Method
Army men use this lacing technique, as the name implies. Runners or sporty shoes should not be lacing them this way since they are made from soft leather. This method can be applied to logger boots made from rugged leather.
Advantages
The primary advantage of this technique is that it doesn't allow the feet to move. This lacing technique is useful for electricians.
Disadvantages
This method is not very quick; it takes time to tie up, specifically when tying high work boots. Besides, it doesn't provide much security and ankle support.
Instructions
Start to tie the lace from the bottom from inside to outside. Without crossing laces, connect them upwards. Then laces are linked on the opposite sides of the eyelets or hooks till the next set goes vertically upwards.
This process will continue till you reach the top of the boots.
Repeat the previous step until all eyelets have reached the top.
So by using this method, all the particular type of lace appears on top. At the same time, the crosses can be seen inside.
This strong and durable method of lacing boots is particularly beneficial for soldiers, but it's not easy to follow.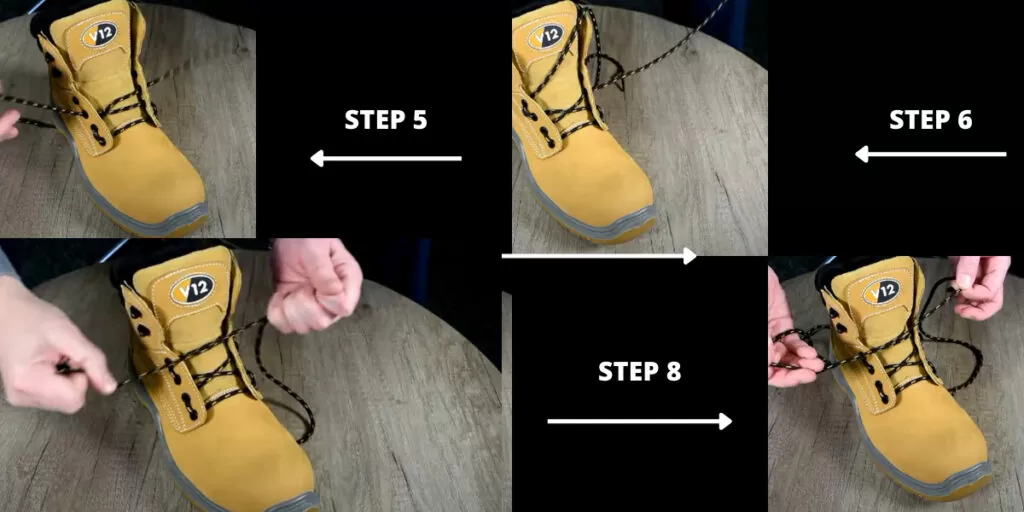 6. Lacing Your Boots in the Ladder Lace Method
Ladder lacing is another awesome lacing technique. Used by US Army Paratroopers & Ceremonial guards. This lacing method is popular because of the stability it provides. In addition to this it looks great.
Start lacing your boots from the bottom eyelets. START as the diagonal laces pattern running through underneath the bottom eyelets.
The lace pattern appeared on the outside of your boots.
Insert lace vertically through the next eyelets set. This time go from outside to inside. Now the laces get inside the boots.
Cross over the tongue. Now tie the lace to connect two eyelets vertically. You are lacing horizontally, not diagonally.
Here the lace will move outside,
Do this for both sides. Now laces appear on the outside of your boots.
The next eyelet is threaded vertically; repeat it till the top. It is brought towards the eyelet above the one below. Insert them from inside. It would be best if you now laced both sides the same way.
Always follow the same order.
Once e you finished lacing, tie a bow, and don't stuff the laces behind the tongue.
Additional Tips to lace Work Boots & things to remember
When you finish reading this article, you might be able to use one of the methods for tying the work boots. Applying the method that suits your style, personality, and appearance is always considered and gives you the most comfort.
Always keep in mind that your efficiency at the workplace directly depends on your comfort level. Uncomfortable shoes, sore feet, and blistering soles will not only ruin your work day but also deteriorate your health overall. Choosing the right boot and size to lace them properly will ensure your style and comfort.
Select The Method That suits you most.
I recommend always choosing the most comfortable method for your lifestyle and personality, regardless of whether you wear loggers, concrete boots, army boots, tactical boots, or any other regular shoe.
Not every technique is meant for everyone. You need to find a suitable method depending on your personality and style. Once practiced consistently, you can try different work boot shoe laces. They can affect your proper posture and cause back pain. The fundamental purpose is to provide adequate safety and comfortability.
Conclusion
Now you have learnt how to lace work boots. These methods are applicable for tying all types of boots including steel toe. Lacing or tying a boot or shoe might be the tiniest thing for anyone. Still, it is imperative and never be overlooked as it could give you the best, opportunist days and the worst aching days of your life.
Tiny mistakes can lead you to huge hazards, so be careful when choosing your boots. Your size must be accurate and tie your boot laces with entire caution and attention.
We ensure that you will be safe from all injuries and mishaps by taking all these precautions. You feel best at the workplace and achieve the utmost productive times.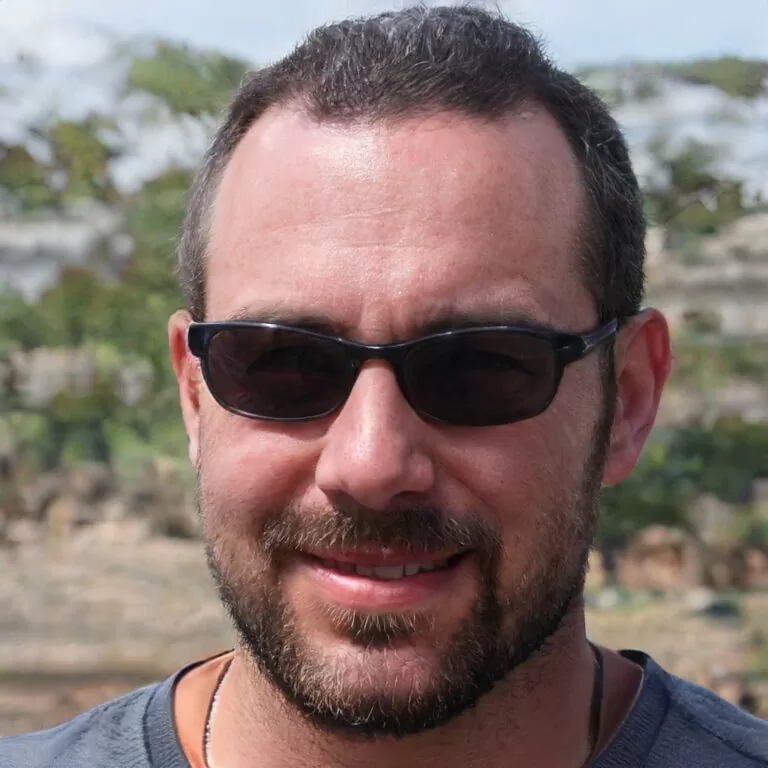 Mark Walter is an accomplished researcher and writer with a wealth of knowledge and experience in the world of work boots. His expertise in this field is unmatched, having worked in a variety of industries and work environments. Mark's writing is clear and concise, making him an ideal source of information for anyone looking to learn more about the importance of selecting the right work boots for the job.